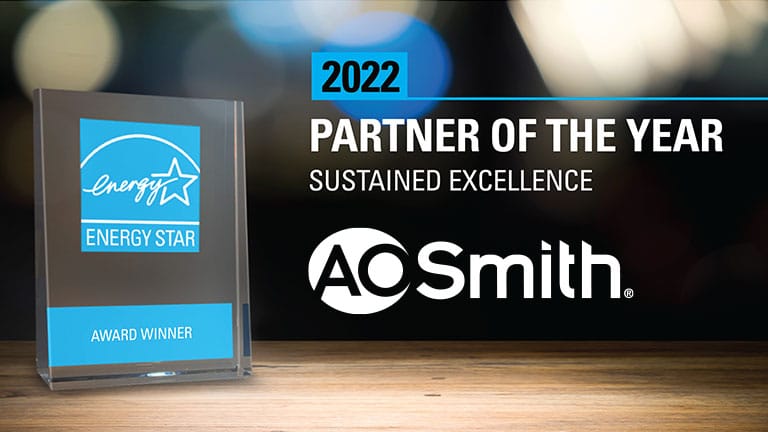 ASHLAND CITY, Tenn. — A. O. Smith, a leader in water heating and water treatment solutions, is proud to announce its 2022 ENERGY STAR® Sustained Excellence Award from the U.S. Environmental Protection Agency and the U.S. Department of Energy for its commitment to providing professionals and homeowners with energy efficient solutions. A. O. Smith is one of only a few water heating companies to receive the ENERGY STAR Partner of the Year designation four years in a row.
"Sustainability and energy efficiency are at the forefront of everything we do at A. O. Smith. This is a tremendous honor that recognizes our continued efforts across our company and our portfolio of industry-leading products," said Francois Lebrasseur, A. O. Smith business development manager, utilities. "We are grateful to our partners at ENERGY STAR for their continued support of our sustainability initiatives, and we look forward to evolving our work with ENERGY STAR as we continue to create a greener future for all."
Many accomplishments and collaboration lead to this prestigious award, including but not limited to:
The successful launch of the iCOMM™ Remote Monitoring Technology for Residential products, allowing homeowners to set specific temperatures and operating modes from their phone.
The launch of A. O. Smith's latest ENERGY STAR® product, the Cyclone XL which operates at 1 million BTU/hr with a smaller footprint than other units
The introduction of a ZIP Code enabled rebate finder powered by EcoRebates that helps consumers find rebates and tax credits for their new high efficiency water heaters
Each year, the ENERGY STAR program honors a group of businesses and organizations that have made outstanding contributions to protecting the environment through superior energy achievements. ENERGY STAR award winners lead their industries in the production, sale, and adoption of energy-efficient products, homes, buildings, services and strategies. These efforts are essential to fighting the climate crisis and protecting public health.
"We know it's going to take all of us working together to tackle the climate crisis, and the 2022 ENERGY STAR award-winning partners are demonstrating what it takes to build a more sustainable future," said EPA Administrator Michael S. Regan. "These companies are showing once again that taking action in support of a clean energy economy can be good not only for the environment, but also for business and customers."
Winners are selected from a network of thousands of ENERGY STAR partners. For a complete list of 2022 winners and more information about ENERGY STAR's awards program, visit energystar.gov/awardwinners.
A. O. Smith Corporation is a leading global manufacturer and marketer of residential and commercial water heaters. A. O. Smith offers its customers an additional advantage in that the company designs, builds, distributes and supports the world's broadest and deepest line of residential and commercial water heaters as well as commercial boilers. This single-source concept simplifies ordering, installation and service and is backed by 80 years of research and innovation. For the most up-to-date A. O. Smith news, like us on Facebook, follow us on Twitter and visit www.hotwater.com.
ENERGY STAR® is the government-backed symbol for energy efficiency, providing simple, credible, and unbiased information that consumers and businesses rely on to make well-informed decisions. Thousands of industrial, commercial, utility, state, and local organizations—including more than 40 percent of the Fortune 500®—rely on their partnership with the U.S. Environmental Protection Agency (EPA) to deliver cost-saving energy efficiency solutions. Since 1992, ENERGY STAR and its partners helped American families and businesses avoid more than $500 billion in energy costs and achieve more than 4 billion metric tons of greenhouse gas reductions. More background information about ENERGY STAR's impacts can be found at www.energystar.gov/impacts and state-level information can be found at www.energystar.gov/statefacts.